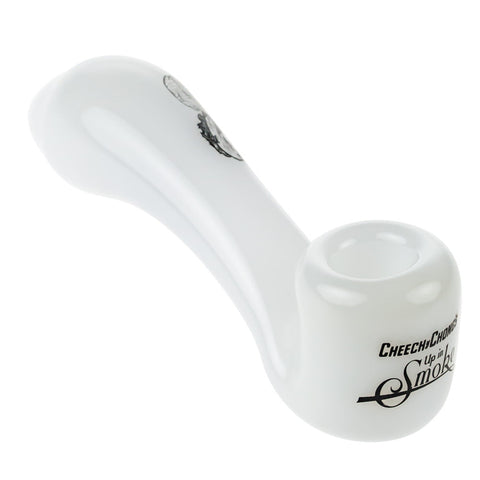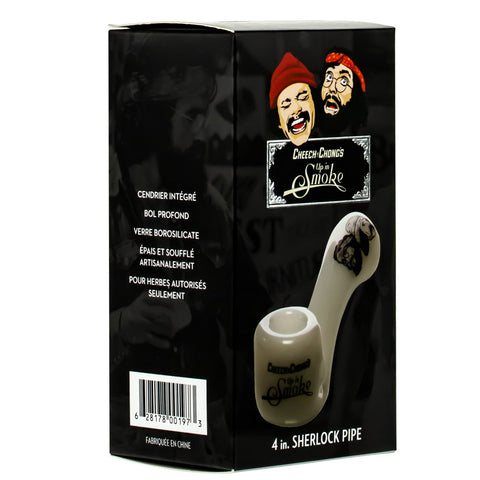 Cheech and Chong Up in Smoke
CHEECH & CHONG FAMOUS X 4 IN SHERLOCK HAND PIPES
It's been over 40 years since the Grammy award-winning duo first released Up in Smoke. The lovable icons are the most well-known smokers and brought stoner-comedy to the big screen. Cheech and Chong have been making people laugh and light up for years, join in with their line of Up in Smoke glass and smoking accessories collection.
Specifications

Built-In Ashcatcher
Thick Hand-Blown Borosilicate Glass

Pocket-size design
Deep roomy bowl
Built-in screen
Carb hole on the left side of the bowl
Flattened bottom
Cheech & Chong's decal on bowl and stem
Available in jade green, clear and white


It features a deep roomy bowl that can hold a nice amount of herb and the built-in screen prevents ash and debris from traveling into the pipe. The carb hole is placed on the left side of the bowl for more control of your hits. The bottom of the bowl is slightly flattened, which enables you to place it on a flat surface without the risk of it tipping over and breaking.

The bulbous mouthpiece offers extra space for the smoke to cool before you inhale, for a much cooler hit. An image of Cheech and Chong decorates the stem of this Sherlock pipe and the Cheech & Chong's "Up in Smoke" decal is placed on front of the bowl. It is available in three colors: clear, white and jade green, so there is bound to be one to suit your style. So if you are looking for a compact piece for a quick hit on the go, then this glass Sherlock pipe from the Cheech and Chong collection is your perfect match!