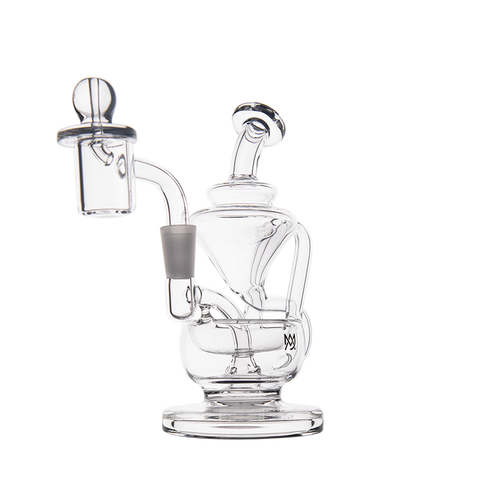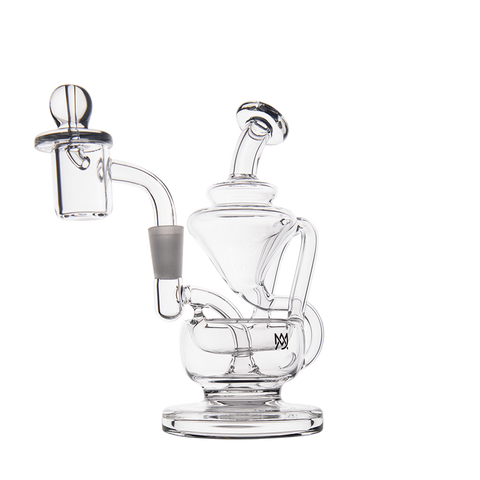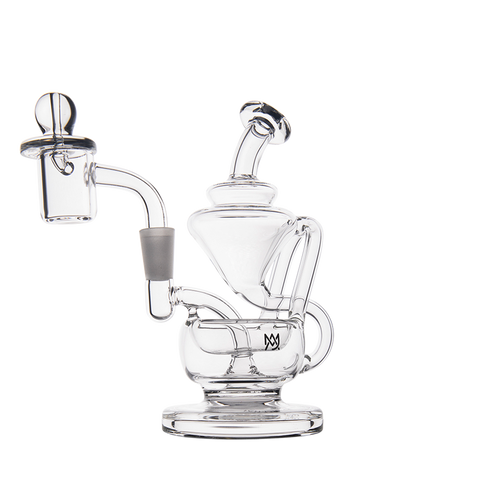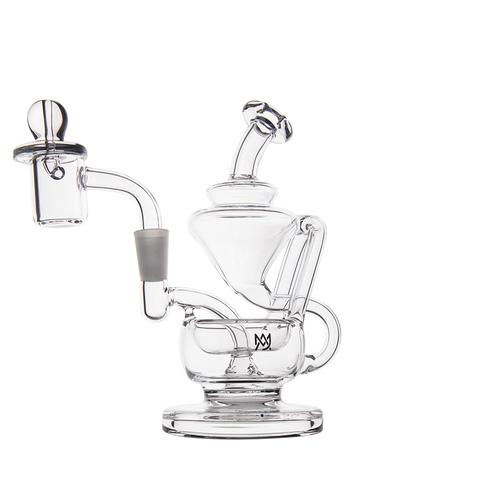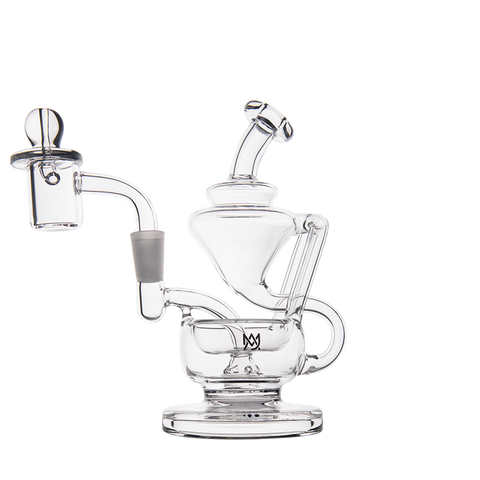 MJ Arsenal
Claude Mini Dab Rig
The Claude Mini Rig pays homage to our original Merlin Dab Rig by reimagining water direction and filtration. Named after an original inventor of the ancient Roman aqueduct system, the Claude Mini Rig alters how water is utilized, enriching your dabbing experience.
Building on our classic recycler rig design, we've added aesthetic aqueducts that guide water into two clear turbines. These turbines cool the vapor with each inhale, delivering a perfect flavor profile with every pull. The Claude Mini Rig, a unique double uptake recycler rig, has protruding arms and an asymmetrical look that adds a touch of elegance to your collection and boosts the rig's performance.
Despite its intricate design, the Claude Mini Rig is a sturdy piece. Crafted from high-quality glass, it can withstand high temperatures and resist accidental falls. It's also user-friendly, making it suitable for beginners and a favorite among daily users due to its ease of cleaning.
The Claude Mini Rig features a built-in oil catcher for reclaiming any remaining product, ensuring no concentrate is wasted. A compact chamber under the quartz banger ensures that every last drop hits hard. The two-turbine design changes water direction and circulates it through multiple chambers, providing a visually appealing experience and cooling the vapor to a comfortable inhalation temperature.
With complex curves providing grip points and a wide, durable base, the Claude Mini Rig is easy to handle and nearly spill-proof. Like its predecessor, the Merlin Dab Rig, it incorporates a splash-resistant design, keeping your lips clear of vape-infused water. The unique design ensures water stays within the rig, allowing the smoke to swirl upwards for a smooth, flavorful inhale.
With the Claude Mini Rig, you'll experience a terp-filled vapor's whirlwind journey. This innovative design offers a smooth and flavorful experience, elevating each dabbing session. The Claude Mini Rig is a testament to our commitment to enhancing your dabbing journey.
Material: 100% Borosilicate Glass
Joint: 10mm
Dimensions: 5.5in x 4in x 2.75in

What's in the box:
Claude Mini Dab Rig
Mini Rig Standard Quart Bucket
Flat Carb Cap
This product and all products on this site are intended and sold for legal purposes only.