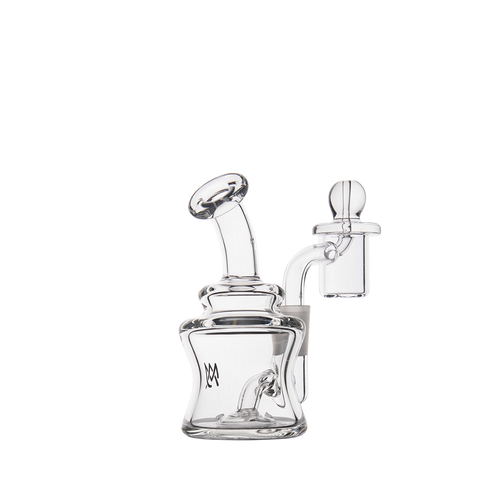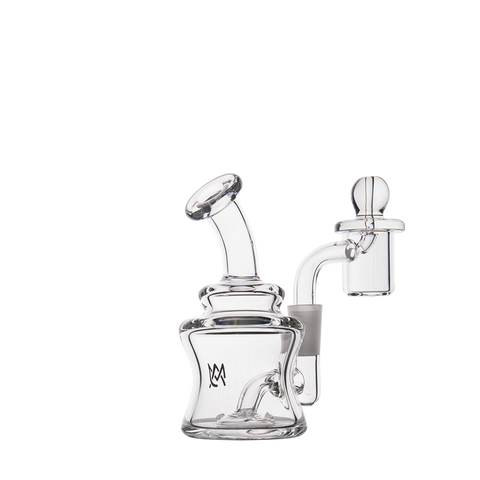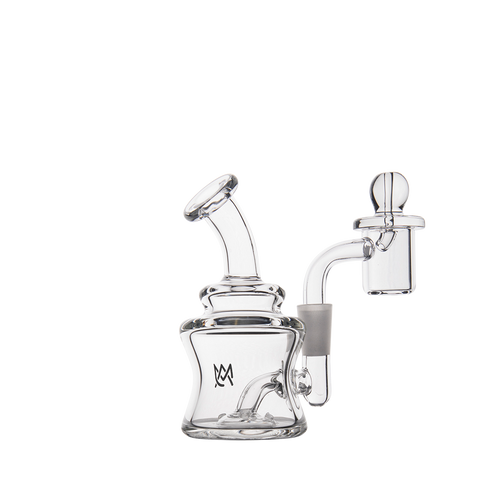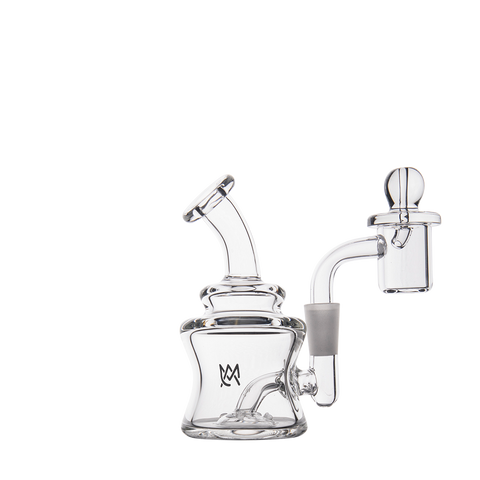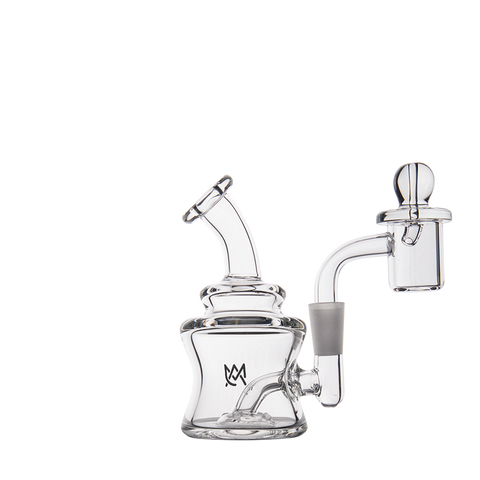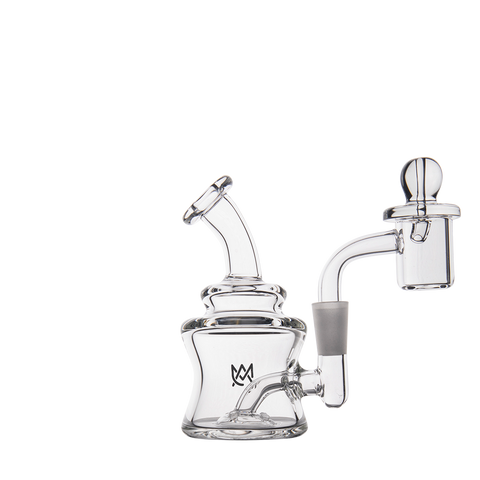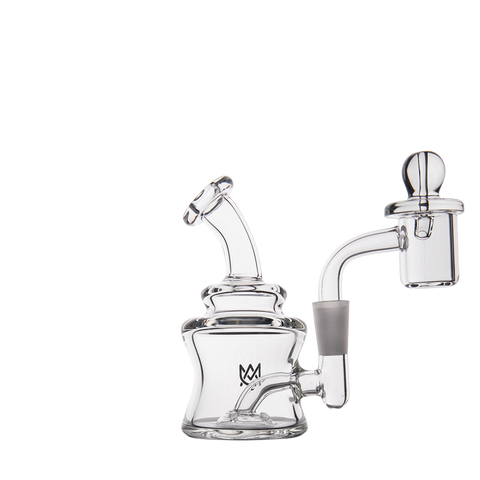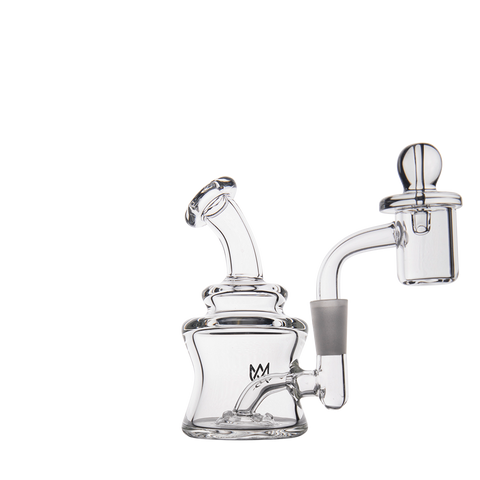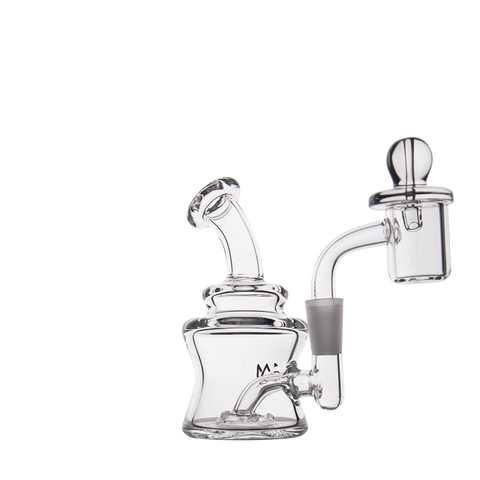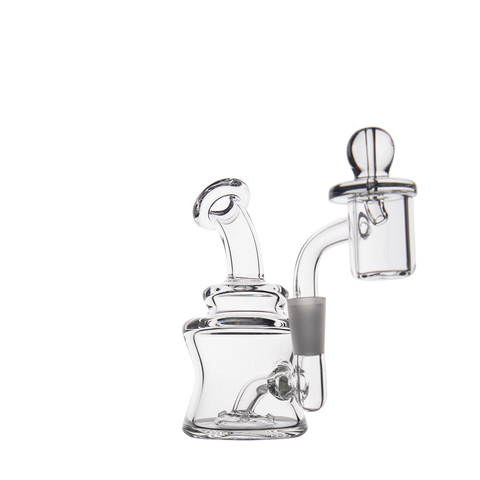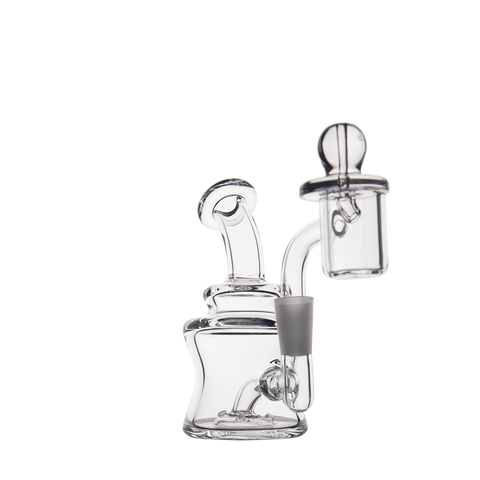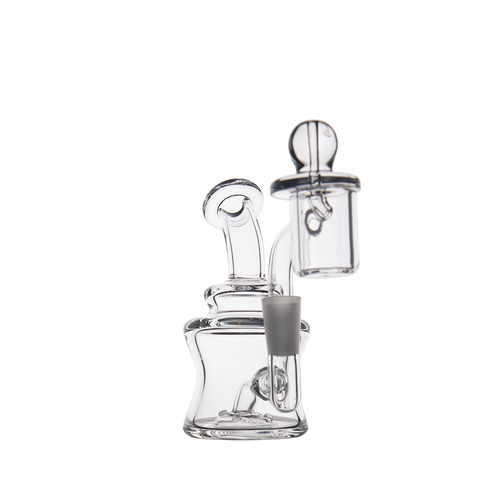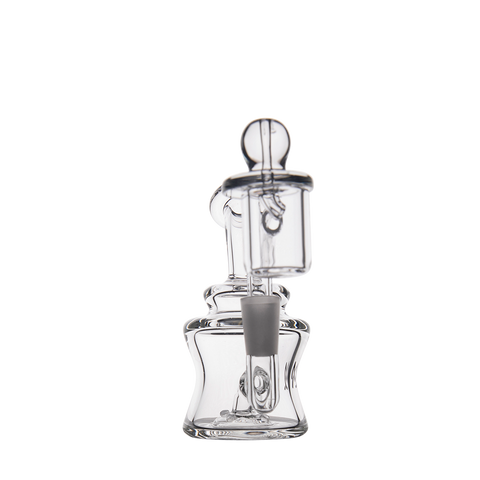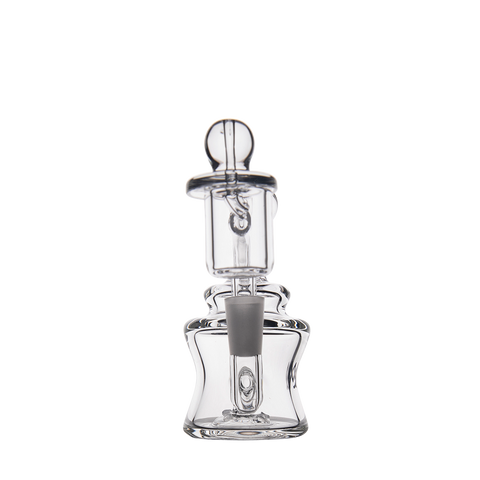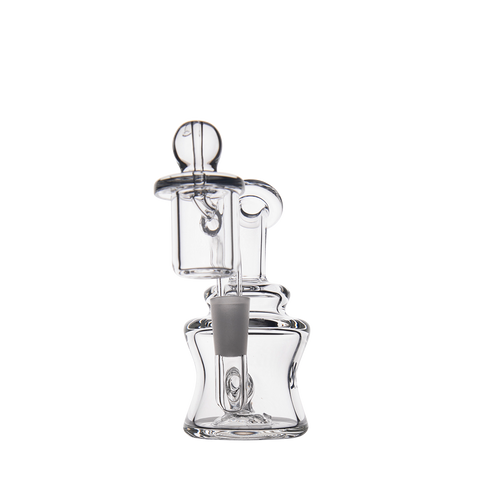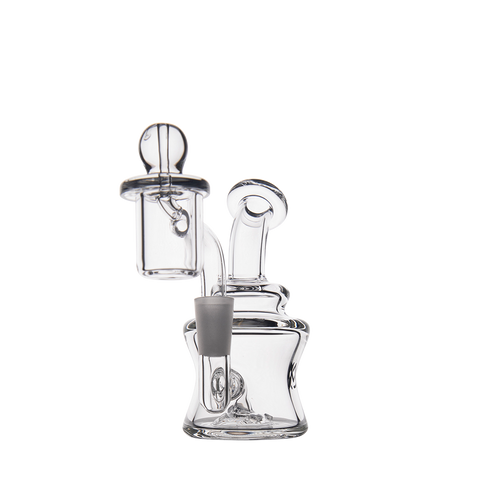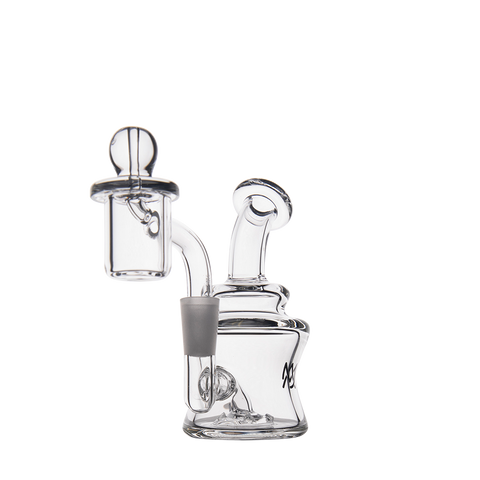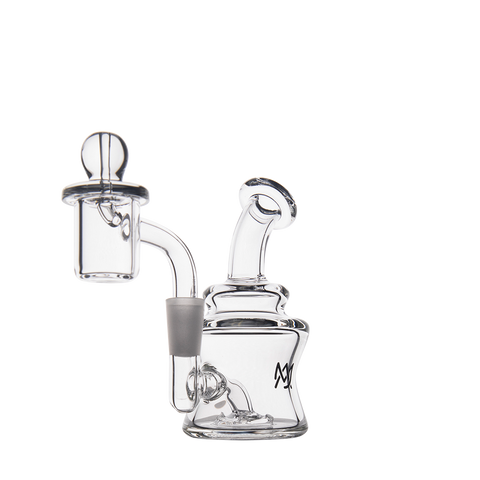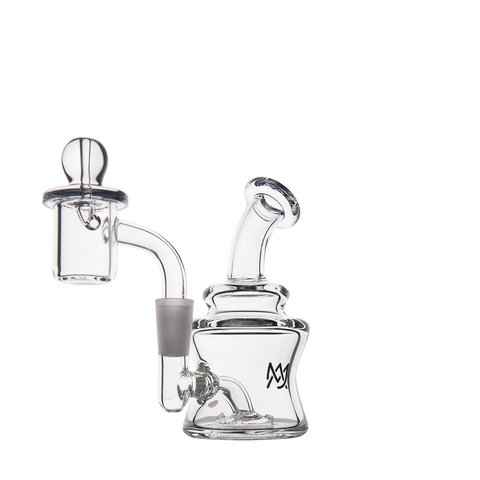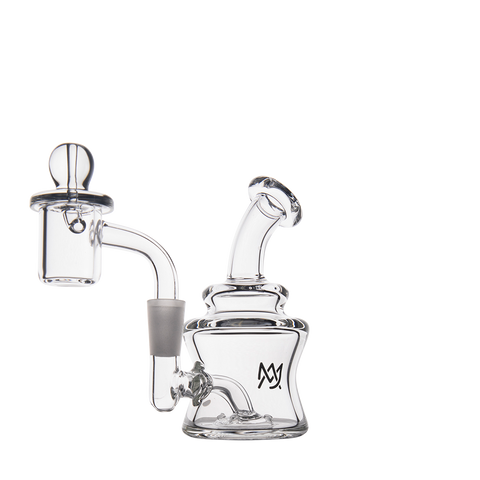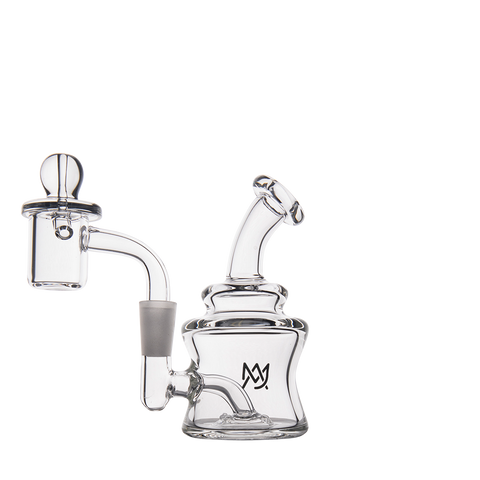 MJ Arsenal
Jammer Mini Dab Rig
The Jammer is a compact, no-frills dab rig that packs a serious punch. Crafted with a commitment to function and durability, the Jammer is hand-made from extra-thick, 4mm 100% borosilicate glass and features a reinforced, base-connected percolator for smooth, full-flavored rips.

Standing at just over 4 inches tall, the Jammer's compact size fits perfectly in your palm, making it ideal for on-the-go use. Its 10mm joint fits well with similarly sized quartz bangers, facilitating effortless dabbing without the need for extra accessories.

In addition, it includes a built-in oil catch in the downstem to prevent excess oil seepage, thereby enhancing your concentrate usage and making cleaning a breeze. The lack of secondary filtration or recycling ensures powerful, flavorful puffs every time.

Fans praise the Jammer for its airflow, portability, and value. Its compact design, ease of cleaning, and affordable price, make the Jammer a daily driver that's also perfect for travel.

Experience the Jammer— a dab rig that guarantees quality, longevity and satisfying dabs.

Material: 100% Borosilicate Glass
Joint: 10mm
Dimensions: 4.25in x 3.25in x 2in

What's in the box:
Jammer Mini Dab Rig
Mini Rig Standard Quart Bucket

What is the Jammer Mini Dab Rig?
For those who like to keep their dab rigs simple, the Jammer is a small and efficient way to get smooth rips. It's made from high-quality borosilicate glass and includes a quartz nail so you can enjoy different types of concentrates without having to purchase any extra accessories.
The Jammer is a no-frills design brought to you by MJ Arsenal. Featuring a simple base-connected percolator, the device delivers vapor straight through the mouthpiece without secondary filtration or recycling.
The MJ Arsenal Jammer Mini Rig is remarkably small when compared to other models. It measures just 4.25 inches in height and has a 10mm joint which means it'll fit perfectly with quartz bangers of the same size.
Just like larger rigs, this mini rig features a threaded downstem that's fully welded into the base. The design keeps it strong after repeated use. Thanks to the wide open space inside and the lack of interior tubing, it's easier to clean than any other dab rig you can find.
If you're looking for a quick and easy way to get your daily dabs, the Jammer will deliver a strong hit of pure vapor leaving you relaxed and ready to take on whatever your day brings.
What Our Customers Say About the Jammer
Don't just take our word for it—check out what customers are saying about the Jammer miniature dab rig.
"I love my MJ Jammer! Good quality, well-designed, easy to use. Very satisfied!" - Miss L, Verified Buyer
"The air flow, portability, and value is unparalleled." - Rhett B, Verified Buyer
"This is all I use on a daily basis and I wouldn't use anything else. Perfect size for travel as well! Can't go wrong with the Jammer!" - Tay, Verified Buyer
"Solidly built, this thing feels *perfect* in your hand. The size is ideal for a one-man daily driver." - Kevin, Verified Buyer
"I bought this as a gift, and the recipient loves it. He likes that it is sturdy and easy to clean. He especially likes the size which, among other things, makes it very portable. I like it because it is aesthetically pleasing." - Nancy J, Verified Buyer
Jammer Dab Rig Features
Our new Jammer Mini Rig has all the features you need and none of the ones you don't.
It's easy to take your dabs with you thanks to its small design and durable construction. The device is made from high-quality borosilicate glass that can handle plenty of wear and tear, so it'll last for years even with daily use.
It's also affordable which is great for those who like to mix it up with different nail materials and accessories. It doesn't boast all the extras that you'll find on higher-priced dab rigs. And yet, the Jammer produces great, satisfying dabs.
Base Connected Perc
The Jammer rig includes a simple, base-connected perc, and there's no recycling or filtration.
Without the added filtration, your rips are as fat and milky as they can be. You'll get a solid amount of vapors, but you'll also get a full-bodied hit that enhances flavor and won't leave you coughing.
10mm Joint
The Jammer includes a 10mm joint that will fit perfectly with quartz bangers of the same size. It's easy to take your dabs on the go because all you need is one accessory.
10mm bangers are slightly smaller, but ask yourself—do you ever pack the whole dish all the way to the top? That's usually a waste. There's really no need for glassware built in larger sizes—all it does is cost more money to produce.
Built-in Oil Catch
All MJ Arsenal mini rigs include an oil catch in the downstem to help prevent excess oil from seeping into the rig. This helps you get the most out of your concentrates and reduces how often you'll need to clean it.
The oil catch also prevents unwanted odors from polluting your palate. When you dab, some oils can create a funky taste that will linger on your tongue for hours after use. By catching some of the excess oil in the downstem, you can eliminate this effect since the hottest oil has a place to recondense.
Small Form Factor
The Jammer is the smallest of our mini rigs, measuring in at a solid 4.25 inches tall. So, you can hide it away in a backpack or purse—just make sure to stash it in your MJ Arsenal padded zipper pouch for added protection.
A smaller concentrate rig is more convenient and less bulky if you're trying to store it for travel. Its reduced size makes it ideal for carrying with you and pulling it out when you're ready. It's made from high-quality borosilicate glass so you can rest easy knowing that your dab rig is built for longevity and durability.
Benefits of a No-Frills, All-Function Dab Rig
The benefits of a no-frills, all-function dab rig are what make them so awesome. They are easy to clean because they have an oil catch to prevent excess oil from seeping into the rig. With no added filtration, they're easy to maintain and clean.
Without added filtration, you also don't have to worry about splashback or messes. You can get some head-punching puffs with nothing but a little water standing between you and your dabs.
Another awesome feature is that it comes with an ultra-compact form factor, making it easy to take your dabs with you on the go. It's so compact that it fits right in the palm of your hand or conveniently in a large pocket. Even better, hits off your Jammer have less contact with the air due to its size. Since less air means more flavor, this makes the Jammer one of our most flavorful rigs!
Accessories For Your Jammer Mini Dab Rig
The MJ Arsenal Padded Zipper pouch is a must-have for any Jammer Mini Rig user. It will safeguard your rig's finish and keep it scratch-free while also functioning as a convenient means of transporting anything you need.
Dab tools are available for purchase in our store. They're ideal to use with our unique rigs and come with a heat-resistant grip. You can easily load your rig to enjoy all the benefits of dabs without any of the mess.
We're thrilled to share the launch of our new spinner carb cap which is compatible with your favorite terp pearls (available from MJA in transparent quartz or synthetic ruby). The spinner cap helps circulate air around your terp pearls to enhance heat distribution to keep your dab hitting longer.
A dab mat from our MJA collection is the ideal complement for your Jammer Mini Rig to keep the mess at bay. It's intended to sit beneath your rig and collect all of the spillage and splashes. You may also put down your accessories on top of it while loading dabs.
How to Clean Your Jammer
Thanks to its simplicity and functionality, cleaning a no-frills dab rig is easy—but it does require a little bit of time. All you need to clean your Jammer is some isopropyl alcohol and cotton swabs.
Take the banger out of the stem, then fill up a container with enough alcohol to submerge both pieces. Submerge the two components and allow them to soak for about an hour.
Take your cotton swabs and dip them into the alcohol, then begin scrubbing away at both elements of your rig. Make sure you pay attention to any grooves or holes where oil can potentially get caught—especially the grooves in the base connected percolator. You may need to use pipe cleaners to reach all the way down into the perc.
The next step is to drain and rinse all of the alcohol from the rig with hot water. Continue running water through your Jammer to push free the loosened residue.
If your rig is really dirty and there are still some chunks inside, fill it with warm water and a bit of table salt. Hold your rig securely by its base and the mouthpiece with both hands, then shake it vigorously. The abrasive action from the salt water will help scrape off the oil without being strong enough to harm the glass.
Rinse thoroughly several times to ensure you remove all of the isopropyl alcohol, then set the pieces aside to air dry. And here's a pro-tip: Make sure to let your rig cool down naturally, reaching room temperature, without using cold water.
Get Your Jammer Mini Dab Rig Today
At MJ Arsenal, our glassware is hand-crafted using premium glass materials and cutting-edge fabrication techniques to ensure your rig travels far and lasts long. With MJ Arsenal's commitment to durable, high-quality products, you can find the perfect addition to your collection.
The Jammer has all you need for a top-shelf dabbing experience: a mini rig, a quartz banger, and an oil catch. We know you're going to love the convenience of this all-inclusive kit, so we invite you to try our lowest-priced dab rig before it sells out.