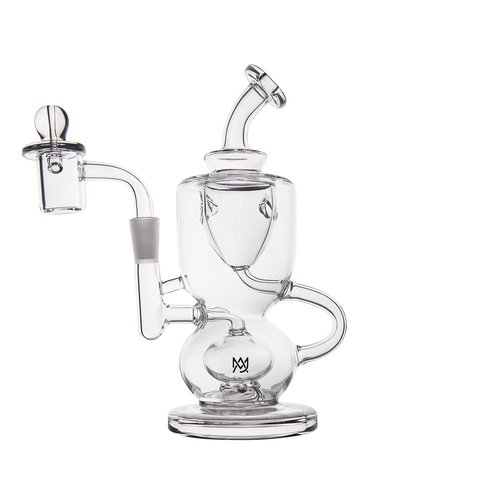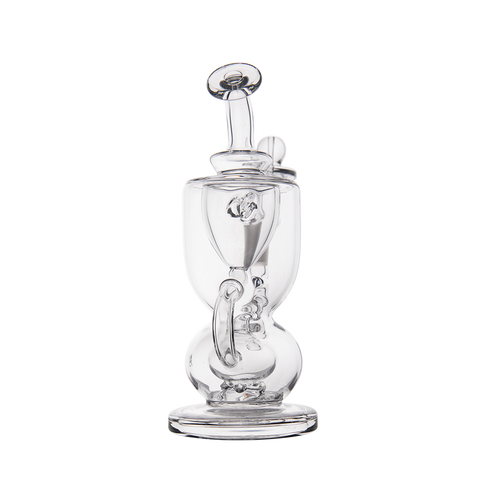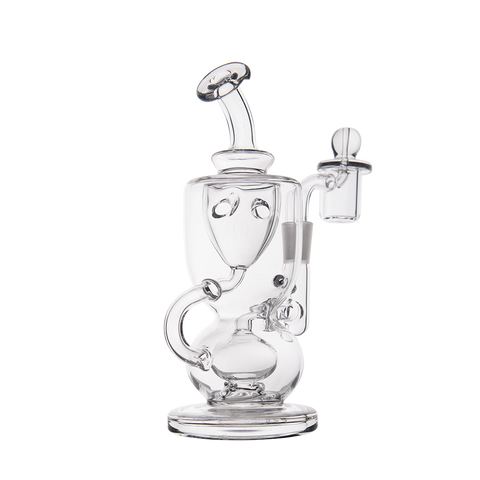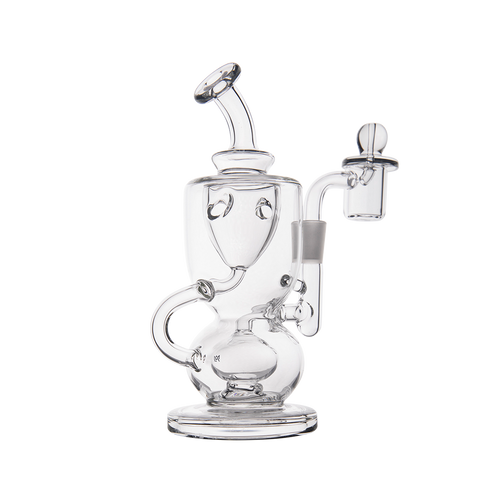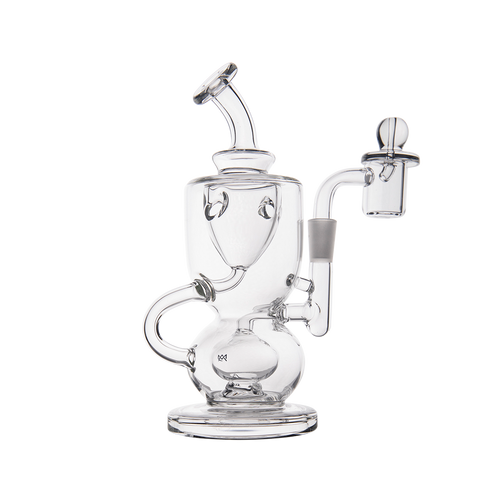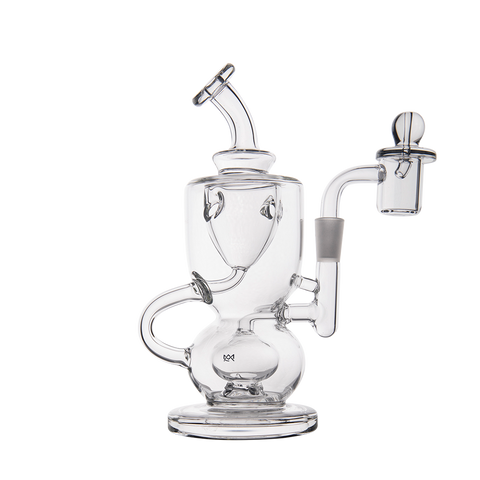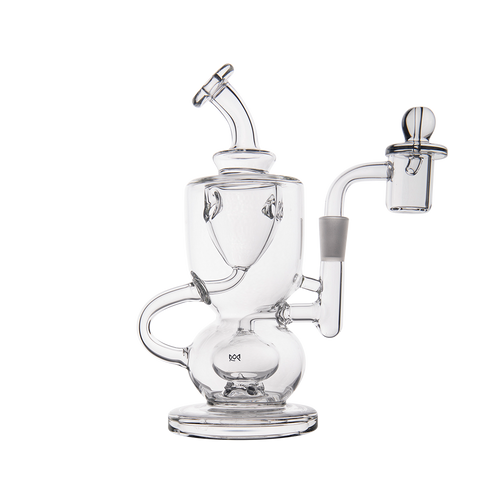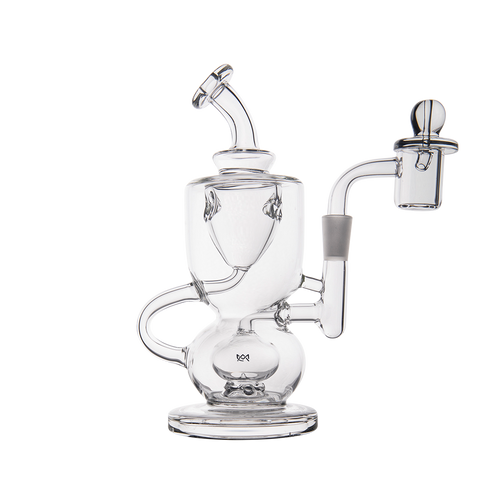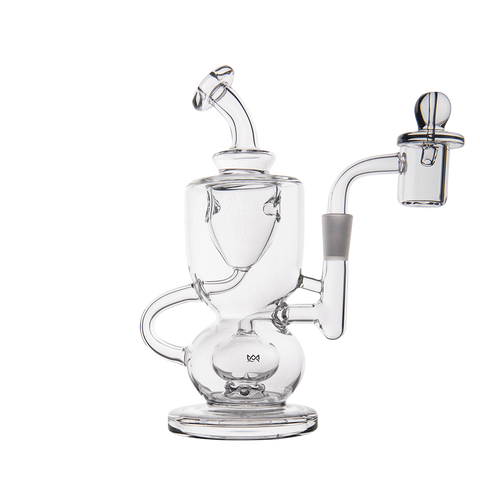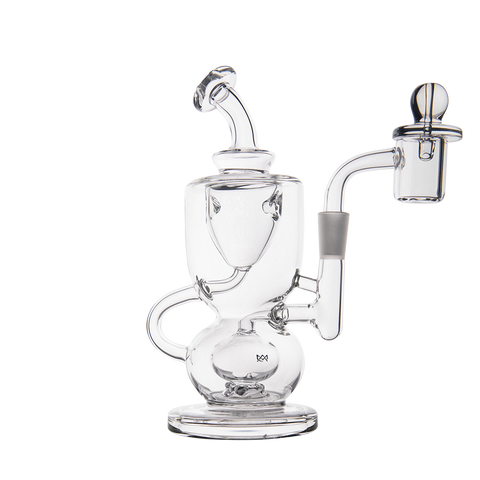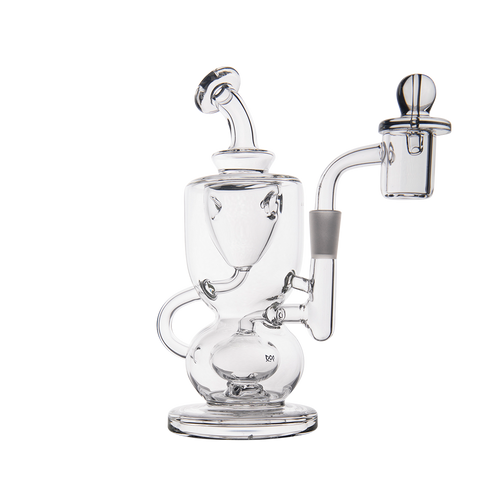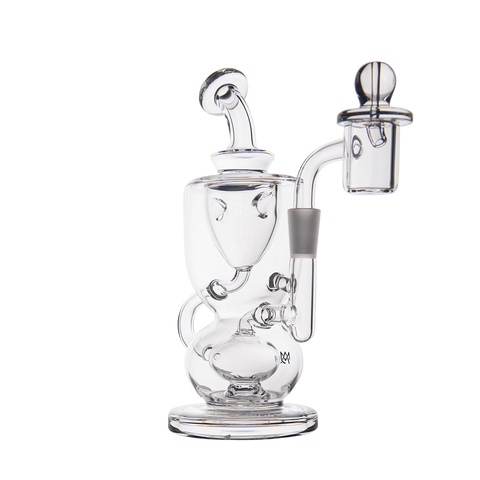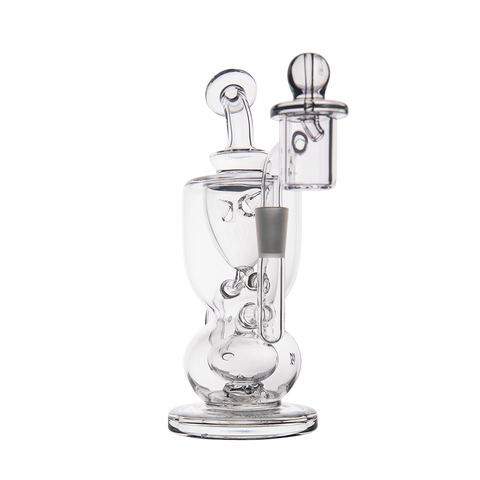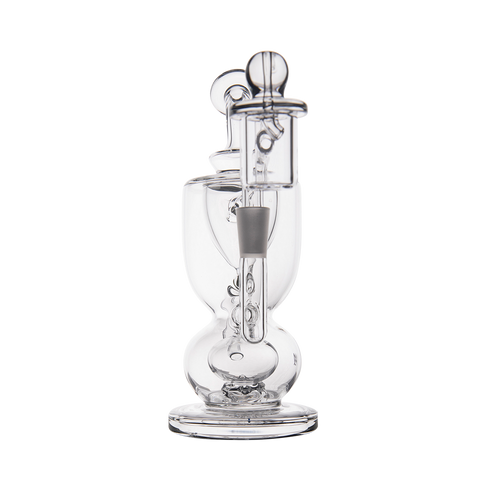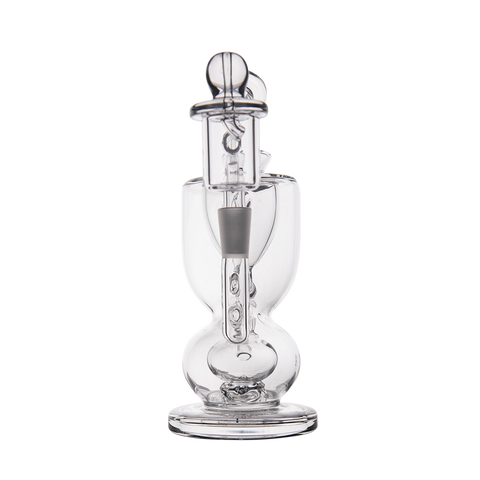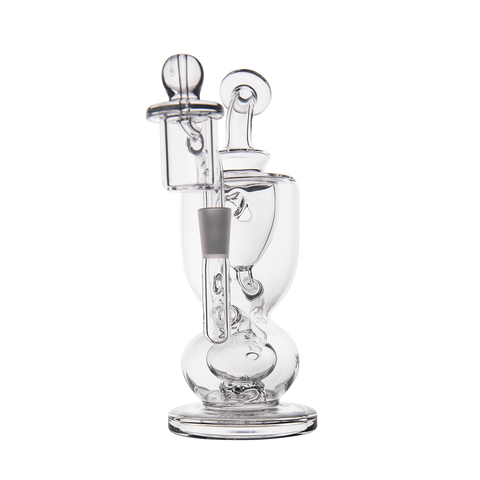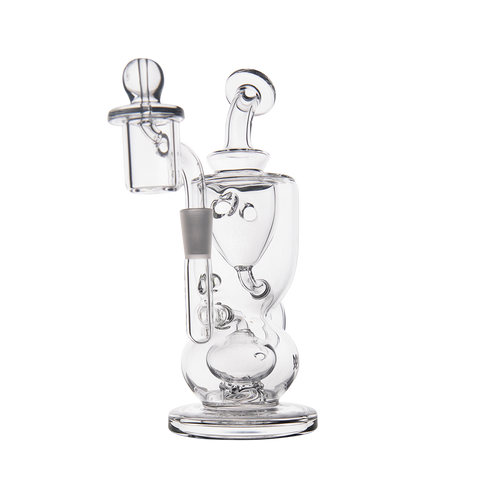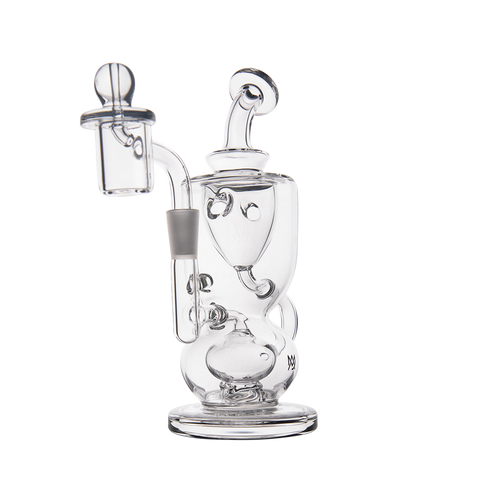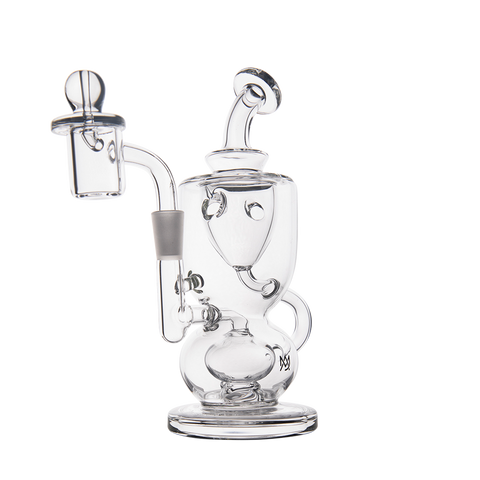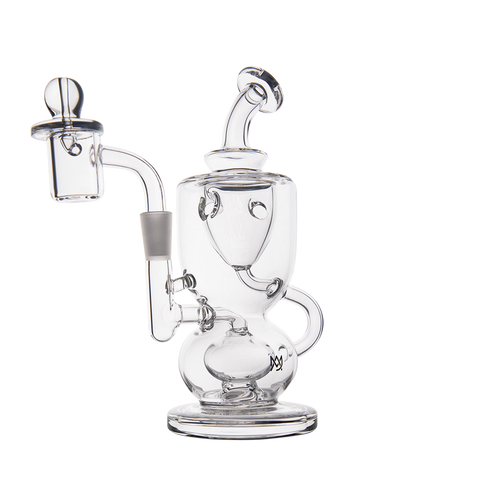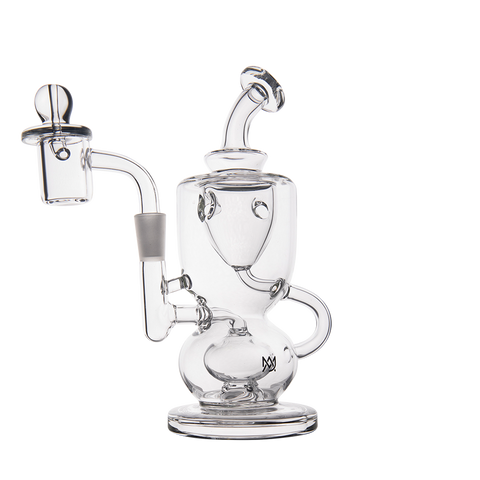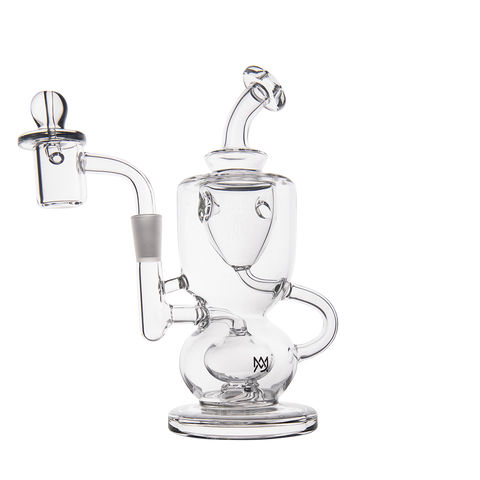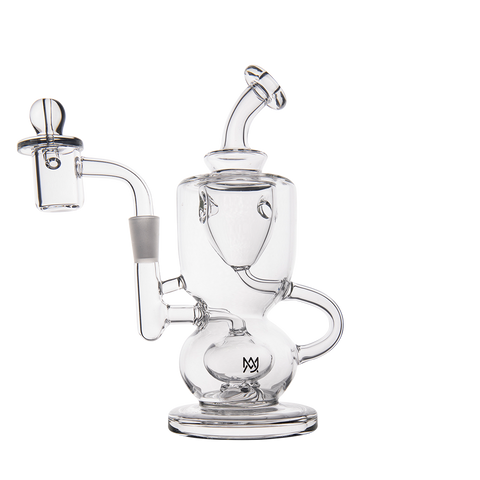 MJ Arsenal
Titan Mini Dab Rig
The exquisite Titan Mini Dab Rig is handcrafted from 100% borosilicate glass, promising durability and crystal-clear design. Renowned for its heat management, borosilicate ensures your rig remains cool, able to endure high temperatures without fogging or staining. The mini rig integrates incycler functionality, conjuring a cyclone of water to effectively cool and deliver pure, smooth vapor. Its innovative double ball base connected perc takes your dabbing experience to new heights, enabling you to stack bubbles and pull the perfect hit.

Thanks to the inbuilt splash guard, your lips are kept free from rig water, ensuring an enjoyable and splash-free experience. Regardless of whether you're a seasoned daily user or a beginner, the MJ Arsenal Titan Mini Dab Rig delivers a consistently robust, velvety hit. Its appealing design and superior functionality offer an outstanding dabbing experience that's worth every penny.

Material: 100% Borosilicate Glass
Joint: 10mm
Dimensions: 7in x 4in x 2.75

What's in the box:
Titan Mini Dab Rig
Mini Rig Standard Quart Bucket
Flat Carb Cap
Stainless Steel Mini Dab Tool

This product and all products on this site are intended and sold for legal purposes only.

What is the Titan Mini Rig?
The MJ Arsenal Titan Mini Dab Rig is a mind-blowing piece of glassware tailored to the needs of dab enthusiasts. Expect only the most amazing results from this handmade compact dab rig as you fill your lungs to the brim with smooth, pure vapor.
This titan features incycler functionality to create a cyclone of water, pulling and cooling the vapor through the pipes, and delivering a perfectly ventilated hit. The double ball base connected perc takes the traditional dry mini rig to a whole new level — allowing you to stack bubbles in style while pulling the perfect hit.
Why Users Keep Coming Back to the Titan Mini Dab Rig
The benefits of the MJ Arsenal Titan Mini Rig come from its innovative and functional design. Made from the highest quality borosilicate glass, this Titan Dab Rig is a titan of industry, combining aesthetics and functionality for a truly out-of-this-world experience
The MJ Arsenal Titan Mini Dab Rig is a daily smoker's dream — using features from both the recycler and incycler designs. The Klein draining incycler system filters vapor and circulates water with ease.
Similar to the Ursa mini dab rig, the Titan Mini Dab Rig is easy to use and eye-catching, perfect for smokers who long to stack bubbles on the regular.
Don't believe us? Here are a few reviews from our loyal patrons.
"Just got this guy in the mail today, with the blender banger. By far the smoothest most tasteful hits ever. This is my new daily rig."
"Absolutely love this rig. Hits so smooth and allows me to really taste the terps."
"Best rig for the money! Also very easy to clean." 

What are the Titan Mini Rig's Features?
At MJ Arsenal, our specialty is crafting a mini dab rig that produces robust, velvety hits with every inhale. The Titan Mini Dab Rig design helps reduce unwanted airflow to reduce irritation and pack punches.
With the MJ Arsenal Titan Mini Dab Rig, you get one of the best prices on the market, with features that blow the competition out of the water.
Splash Guard:
There's nothing worse than pulling the perfect puff and feeling the lukewarm drip of rig water splash across your lips. Fortunately, the MJ Arsenal Titan Mini Dab Rig features a guard to keep your hits in the splash-free zone.
Double Ball Base
Maintaining an even, flavorful pull is guaranteed with the MJ Arsenal mini rig double ball mechanism.
MJ Arsenal MSRP uses double ball base action, allowing the water and vapor to circulate through two separate chambers. That way, you can keep the incoming stream of hot smoke from coming in direct contact with your lungs — and steer clear of coughing fits.
Whether you're a daily user or a beginner, the MJ Arsenal titan mini dab rig will keep your lungs safe and your mind soaring.
Borosilicate Glass
The MJ Arsenal Titan is a compact dab rig made from the highest quality Borosilicate glass, a material known for its heat management and crystal-clear design. 
Not only is Borosilicate glass durable, but it also maintains a cool exterior and can withstand high temperatures without fogging up or staining glass with dab residue.
Specifications
Approximately 7 inches in height

2.75 inches base width

10mm connection
Included in the MJA Titan Mini Rig Set
One Titan Mini Rig by MJ Arsenal

One MJA custom flat quartz bucket
Is the Titan Mini Rig Compatible with Other MJA Accessories?
Though the Titan features a whole new level of functionality, there are always unique ways to spice up your sessions. So, why not give our other accessories a go?
No MJ Arsenal Titan Mini Dab Rig is complete without a set of go-to accessories to keep the mess minimal and the hits heavenly. So, ditch your makeshift scraper, toss your cracked banger, and shop our tailored collection of dab tools.
Between an additional quartz banger, a carb cap to quickly secure your vapor, and stainless steel dab tools to keep your glass clean, you can build up your own arsenal of quality equipment.